Maxwell Chen
Maxwell Chen is a New York-based multidisciplinary spatial designer. He graduated with a BFA Interior Design degree from Pratt Institute and is currently pursuing a Master of Architecture at Columbia University. Originally from Taipei, Taiwan, he is interested in the shift in cultural representations through time and space, mixing the old and the new, the traditional and the contemporary, into a story of spatial and cultural representations of Chinatown.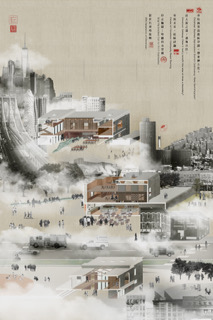 Urban Shan Shui
48"x 72"on fabric
Shan-Shui painting is a traditional representation of landscapes that were usually a projection of the imaginary. In a contemporary context, where time has shifted and culture has migrated, Chinatown of Manhattan has been developing and changing along with the city since the 1850s. "Urban Shan Shui" is a drawing done for a proposed cultural center in Chinatown where contemporary issues are being discussed through culture. The drawing itself challenges the clinging of traditions and openness to western culture.
*disclaimer: the project has no association with the logos used in the drawing.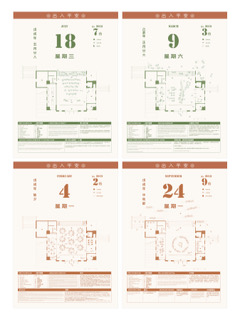 Calendar Floor Plans
18"x24"
Floor plan is a very representational and graphic way of understanding an aspect of a space. Chinese characters, similarly, are graphics that carry certain essential meanings. "Calendar Floor Plan" is a series of drawings done for the proposed project of cultural center in Chinatown. The drawings ask how to draw events that becomes easily understandable while producing culture through graphic representations. The series takes a traditional, everyday object —calendar—and redesigned it as a directory in a public, contemporary setting.